Segundo a BBC as tropas senegalesas e doutros países da região já furaram a fronteira da Gâmbia.
A estas alturas, pergunto porquê os líderes africanos não aprendem com a história.
Logo ele o Jammeh, que alega ser PhD, devia, mais do que ninguém saber como terminaram os líderes que não aceitaram sair do poder.
Agora tenho pena dos civis Gambiano que poderão sofrer consequências por escolher o seu favorito, enquanto ele voa com sua família para o o exterior a procura de exílio política...


Estamos a dar razão ao Trump...
Comentários
Eddy Prínce Simbine
Muitos do dirigentes e regimes africanos precisam d medidas comos as q a CEDEAO tomou para deixarem a cultura d se amarrarem ao poder, ou seja d s tornarem deuses ns seus países, eu acho q uma medida cmo aquela tinha q ter começado ha um tempinho cm o
Pierre Nkurumziza, J. Kabilah é precisa q medidas cmo aquelas sejam tomadas comtra regimes e dirigentes teimosos, a áfrica precisa d viver uma verdadeira democracia, os povos ñ podem comtinuar a sofrer.viva
Canuma S. Canuma
Africa no seu melhor, Assim como existem novelas mexicanas , em Africa nos temos "filmes" nossos "filmes" Africanos digno de premio....!
Eddy Prínce Simbine
Wrong turns ao vivo, êish estamos mal cm os bruxos madodas deuses dos povos eh eh
Senegalese Troops Storm Gambia
(JollofNews)
– A Senegal led regional force backed by heavy artillery is reported to have entered the Gambia as part of efforts to flush out the country's long-term ruler, Yahya Jammeh.
Mr Jammeh, 51, is refusing to handover power to Adama Barrow, who was declared winner of last month's election.
The move came shortly after Mr Barrow was sworn-in as Gambia's third president at the country's embassy in Dakar, Senegal.
"Ok I can comfortably confirm that the Senegalese army is moving into Gambia direction, and we right behind the convoy of armoured tankers. so far it looms like we going all the way, unless we are stopped at some point. Remember Gambia in your prayers" wrote Gambian journalist Sheriff Bojang Junior who is embedded with the troops.
Also confirming the news,
Colonel Abdou Ndiaye
of the Senegalese army
wrote in a text message to Reuters: "
We have entered Gambia"
Meanwhile, JollofNews has obtained a video footage showing Gambian villagers cheering and thanking the Senegalese soldiers as they march on into Gambian territory
More details to follow soon.
Gambia crisis: Senegal troops enter to back new president
Senegalese troops have entered The Gambia to ensure Adama Barrow assumes power as the country's new president, a Senegalese army spokesman has said.
It comes shortly after Mr Barrow took the oath of office at The Gambia's embassy in the capital of Senegal.
He has been recognised internationally. But strongman Yahya Jammeh has refused to quit and is backed by parliament.
West African leaders have threatened to remove Mr Jammeh by force. The UN has backed their support for Mr Barrow.
The 15-member Security Council stressed on Thursday that this should be pursued "by political means first".
Senegalese army spokesman Col Abdou Ndiaye was quoted by news agencies as saying the country's troops entered The Gambia on Thursday afternoon.
Nigeria said earlier in the day that its "armed reconnaissance air force are over Gambia", AFP reports.
"They have the capacity to strike," Nigerian Air Force spokesman Ayodele Famuyiwa told the news agency.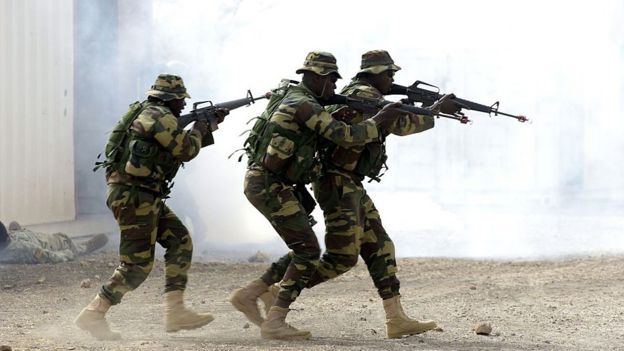 West African military forces have made it clear they are ready to enforce a transfer of power in the country, a popular beach destination among European holidaymakers.
Mr Barrow took oath at the Gambian embassy in Dakar.
In his inauguration speech, he ordered all members of The Gambia's armed forces to remain in their barracks.
"Those found illegally holding arms will be considered rebels," he warned.
Western ambassadors to Senegal, the UN envoy for West Africa and officials from the regional bloc Ecowas (Economic Community of West African States) attended the ceremony, while hundreds of Gambian expatriates gathered outside the compound.
---
At the scene - Thomas Fessy, BBC News, Banjul, The Gambia
People have been following the inauguration of Adama Barrow live on Senegalese TV, which many receive here in The Gambia.
Few people have come out to celebrate, timidly chanting the name of Mr Barrow or waving at the cars driving by.
Tension is still running high, as people are very much aware that the political crisis is not over.
Banjul feels like a ghost town. Even the usually busy thoroughfares of Serekunda, on the outskirt of the capital, are deserted.
Many say the military remain - like Yayha Jammeh - unpredictable.
But in a sign that parts of the security forces may switch sides, I have met five police officers standing outside their station, relaxed and visibly happy.
I asked how things were going, and one of them replied with a smile "everything is alright, change is good."
---
Meanwhile, Mr Jammeh's term in office has been extended for three months by a two-thirds majority in parliament. Some experts say he still has a legitimate claim to be called the country's president.
Gambian Information Minister Sidie Njie told the BBC on Thursday that Mr Jammeh would not leave his office.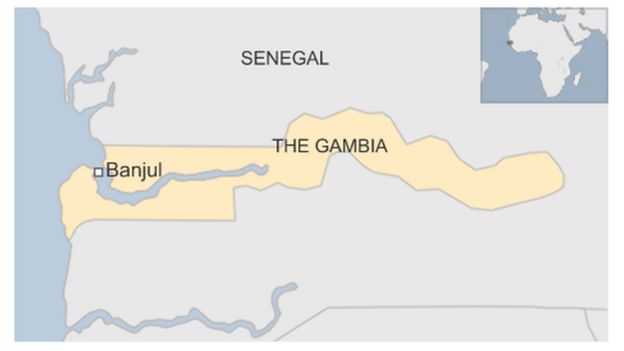 Adama Barrow sworn in as Gambia's president in Senegal
Adama Barrow, winner of December vote, is inaugurated in Dakar but longtime ruler Yahya Jammeh refuses to cede power.
Gambia's President Adama Barrow has taken the oath of office in neighbouring Senegal, calling for international support as

troops from regional forces

entered the small West African country to ensure he assumes power.
Longtime ruler Yahya Jammeh, who came to power in a 1994 coup, has refused to step down despite losing a disputed December 1 presidential election, deepening a political crisis.
Barrow, who had recently sought shelter in Senegal, was inaugurated on Thursday in a hastily-arranged ceremony at Gambia's embassy in the Senegalese capital, Dakar.
Political crisis deepens in Gambia
"This is a day no
Gambia
n will ever forget in a lifetime," Barrow said in a speech immediately after being sworn in.
Shortly after his inauguration, the United Nations Security Council unanimously adopted a resolution backing Barrow and called for a peaceful transer of power.
"The people of The Gambia spoke clearly at the elections in December. They chose Adama Barrow to be their president. Their voice now needs to be heard and their will needs to be heeded by just one man," Peter Wilson, the UK deputy ambassador to the UN, said.
The council's decision came as the Senegalese and Nigerian armies said they were deploying troops to Gambia as part of an operation by ECOWAS, West Africa's regional bloc, aiming to uphold the result of last month's vote.
"The Nigerian military will deploy its assets as part of (a) standby force to protect the people of the Gambia and maintain sub regional peace and security," Nigeria's armed forces said in a statement.
At least 26,000 people have fled Gambia for Senegal since the start of the crisis fearing unrest, the UN's refugee agency UNHCR said on Wednesday, citing Senegalese government figures.
Hundreds of people gathered outside Gambia's embassy capital in Dakar [Emma Farge/Reuters]
'Freedom, hope'
In Dakar, the small embassy room held about 40 people, including Senegal's prime minister, the head of Gambia's electoral commission and officials from ECOWAS.
In his inauguration speech, Barrow called ECOWAS, the African Union and United Nations to "support the government and people of the Gambia in enforcing their will".
Thousands fleeing to Senegal amid Gambia crisis
He also ordered Gambia's armed forces to remain in their barracks and called for "allegiance to the motherland".
Al Jazeera's Nicolas Haque, reporting from Dakar, said large crowds of young people had gathered outside the embassy shouting "freedom" and "hope".
"People who have spent their entire life under one leadership, one person, and they see in Barrow an opportunity for change".
Haque added, however, that the "situation is still precarious. As we understand, Jammeh is not ready to let go off Gambia; he is still in charge at least in the capital, Banjul."
Military operation
Hundreds of West African soldiers have deployed to the Gambian border to back Barrow in a showdown with Jammeh.
Senegal's army had said on Wednesday it would be ready to cross into its smaller neighbour, which it surrounds, from midnight.
"A military operation [is under way] with troops also from Ghana, Nigeria, Togo, Mali - they are all at the Senegale border and presenting a united front,"

Haque said earlier on Thursday

.
Also on Thursday, sources told Al Jazeera that Isatou Njie Saidy, Gambia's vice president since 1997, had quit, becoming the highest level official to abandon Jammeh's camp.
"Saidy's resignation comes a series with defections among Jammeh's entourage," Haque said.
"Eight cabinet members have resigned saying they no longer stand with Jammeh. But despite all these defections, Jammeh is still not willing to leave office."
Jammeh, whose mandate expired at midnight, had initially

conceded defeat

but a week later contested the poll's results stating irregularities.
Jammeh has resisted strong international pressure for him to step down, b

ut African nations began stepping away from him, with Botswana announcing on Thursday it no longer recognised him as Gambia's president.
Jammeh's refusal to hand over power "undermines the ongoing efforts to consolidate democracy and good governance" in Gambia and Africa in general, it said.
Earlier this month, the African Union

announced

that it would no longer recognise Jammeh once his mandate expired.
Source:
Al Jazeera and news agencies